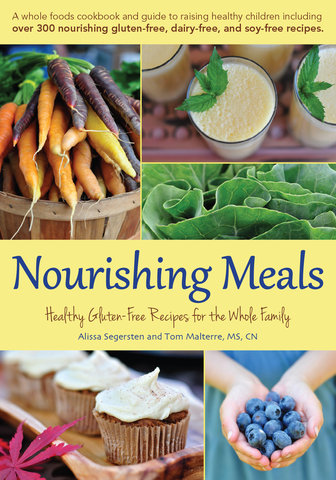 Raise healthy Children.
You'll learn what nutrients are key for proper growth and development both in childhood and in utero, why going gluten-free can help solve mysterious health ailments, why removing processed foods from your diet and eating whole foods can benefit your health; as well as the causes behind the rise in food allergies and what to do about it.
Here is what you'll find in the Nourishing Meals Cookbook:
Over 300 nourishing Gluten-Free recipes (including many grain-free recipes)

How to raise a healthy eater

Key nutrients for pregnancy and childhood and contributors of deficiencies

How to pack a healthy school lunch 


Creating balanced family meals 


Vegan, vegetarian, seafood, and meat main dishes

Nutritional benefits of soups and stocks 


Tips for getting your children to eat more vegetables

Tips for a quick, nutritious breakfast

Charts for soaking and cooking whole grains 


Wholesome gluten-free breads and muffins, including sourdough recipes

Healthy snack ideas 


Alternatives to refined sugar 


Nourishing grain-free dessert recipes 


Ways to preserve the harvest, including recipes for lacto-fermented vegetables
OUT OF STOCK. Click HERE to order the new edition!
Sample Recipes
Nori Rolls with Pumpkin Seed-Parsley Pâté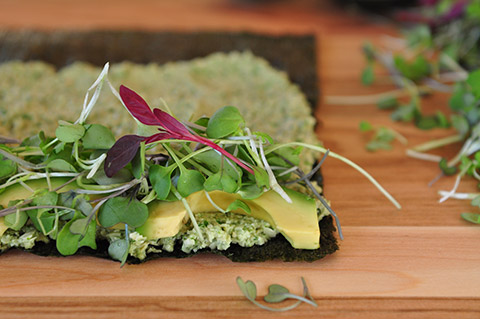 This nutrient dense lunch or snack will keep you energized all day. Soaked pumpkin seeds are more digestible and also easy to blend down into a paste. Add your favorite veggies to the nori rolls along with the pâté. Try sliced cucumbers, red bell peppers, shredded carrots, or spinach leaves.
Pâté
1 cup raw pumpkin seeds, soaked for 8 hours
1 lemon, juiced
1 tablespoon extra virgin olive oil
1 clove garlic, crushed
¾ teaspoon Herbamare
large handful fresh parsley
water
Other Ingredients:
4 nori sheets
sliced avocado
micro greens
Rinse and drain the soaked pumpkin seeds. Add them to a food processor fitted with the "s" blade. Add the lemon juice, olive oil, garlic, and Herbamare. Process until smooth, scraping down the sides if necessary. Add the parsley and process again. Add water, a tablespoon at a time, until you get the desired consistency.
Spread pâté onto nori. Add the avocado and micro greens to one end of the nori sheet, then roll. Let rest for a few minutes before slicing. Repeat with remaining ingredients.
Yield: 4 nori rolls
Nutrition Tip: Pumpkin seeds are high in minerals such as manganese, magnesium, phosphorus, copper, and zinc. Soaking the seeds enables these minerals to become more available.
Zucchini Almond Pancakes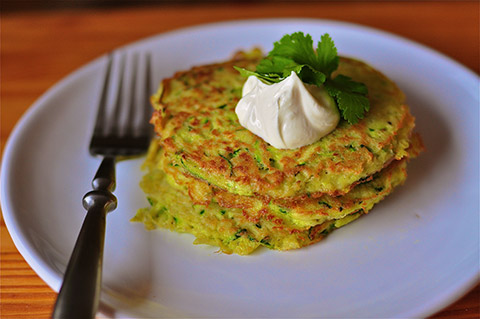 I like to make these savory grain-free, protein-packed pancakes on a summer morning before we head out for the day. Combined with a green smoothie they create an energizing breakfast! These store well in the refrigerator, but if you prefer to make a smaller batch halve the recipe. Top each pancake with a dollop of sour cream or Cashew Sour Cream, and chopped parsley if desired.
4 large organic eggs
3 cups grated zucchini
¾ to 1 cup almond flour
½ cup minced onion
½ to 1 teaspoon Herbamare or sea salt
freshly ground black pepper
olive oil or butter for cooking
Mix all ingredients except the oil together in a medium-sized bowl. Batter will thin a little as it sits.
Heat a 10-inch stainless steel skillet or cast iron skillet over medium-low heat. Be sure to heat your pan long enough before adding the oil and batter, otherwise the pancakes will stick. Add about 1 tablespoon olive oil. Drop batter by the ¼ cup into the hot skillet. Cook for a few minutes on each side. Repeat with remaining batter, adding a little oil or butter to the skillet before cooking each pancake.
Yield: 10 to 12 pancakes
Kitchen Tip: A well-seasoned cast iron skillet keeps pancakes from sticking to the bottom of the pan and is especially useful in this recipe.