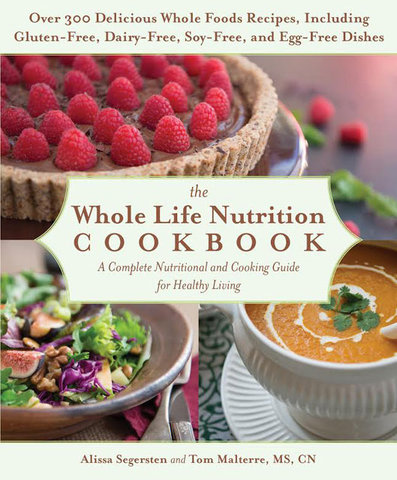 "Everyone's body is different. Digestion and immune functions can be compromised by what we eat and how we live. Food sensitivities—to gluten, dairy, corn, and soy—are a reality for many. As a result, some people thrive on one diet while others don't. Your goal should not be to try the hot new lifestyle trend, but to find a way of eating that is best for you."
The NEW Whole Life Nutrition Cookbook is the guide for learning how to stock and prepare whole foods…and how to be the healthiest YOU!
We know that the old edition has been a kitchen bible for many and we wanted to continue that tradition with the new, revised Whole Life Nutrition Cookbook! We've added over 100 well-tested new recipes and fascinating health information so you can have the most delicious, soul-satisfying meals and be able to make the most informed decisions about what to eat and why!
The Whole Life Nutrition Cookbook will guide you through the process of stocking whole foods, from the healthiest meats and seafood to the best types of fats and oils, and even the healthiest forms of chocolate! You'll learn detailed information on the benefits of each whole food group—Greens, Vegetables, Fruits, Whole Grains, Legumes, Nuts and Seeds, Meats & Seafood, Dairy Foods, Sea Vegetables, and Fats. There are over 450 pages of recipes and information!
Buy The Book
Purchasing outside the United States?
Book Details
The Whole Life Nutrition Cookbook includes:
Evidence-based information on whole foods
Gluten-free, dairy-free, egg-free, and soy-free recipies
A complete guide to stocking your whole foods pantry
The whole story on the current diet trends and how to adapt them to best serve your individual needs 
The real story behind toxicity in food and avoiding PCB's, GMO's, and non-organics
Over 300 recipies that any vegan, vegetarian, carnivore, or omnivore will love
Paperback: 464 pages
Publisher: Grand Central Life & Style; 1 edition (April 29, 2014)
Language: English
ISBN-10: 1455581895
ISBN-13: 978-1455581894
Product Dimensions: 8.2 x 1.2 x 10 inches
Shipping Weight: 2.9 pounds
Sample Recipes
Lemon-Olive Oil Chickpea Salad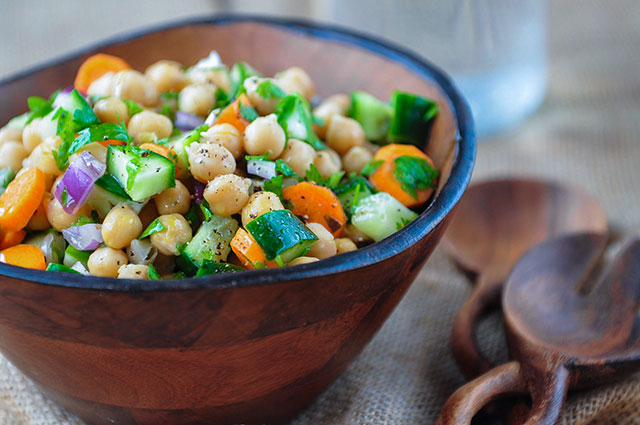 This nutrient-dense salad makes a perfect light lunch when served over salad greens! Pack a small container in your child's lunchbox along with a slice of Hearty Seed Bread, and a container of organic green grapes for a balanced meal.
6 cups cooked chickpeas
1 medium cucumber, diced
3 carrots, diced
½ cup diced red onion
½ cup chopped parsley
1 to 2 tablespoons chopped fresh oregano
¼ cup extra virgin olive oil
3 to 4 tablespoons freshly squeezed lemon juice
1 teaspoon lemon zest
1 teaspoon sea salt
freshly ground black pepper
Add all ingredients for the salad into a medium-sized mixing bowl and toss together. Taste and add more sea salt and black pepper if necessary. Serve immediately or store in the refrigerator for up to 4 days. Bring to room temperature before serving.
Yield: About 6 servings
Raw Superfood Fudge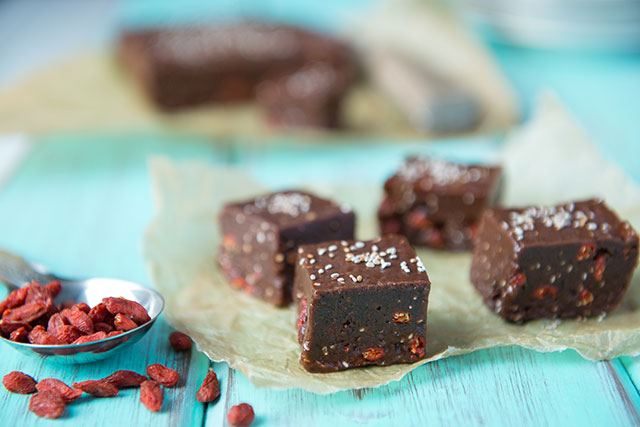 A decadent dessert that is also nutritious? Yes! This raw fudge recipe serves as a sweet treat and a powerhouse of nutrients, including medium-chain triglycerides from the coconut oil, antioxidants in the raw cacao, vitamin C and amino acids in the goji berries, and essential fatty acids in the chia seeds. Sometimes I will have a little piece of this raw fudge with a green smoothie for breakfast!
¾ cup raw cashew butter
½ cup melted coconut oil
6 tablespoons raw cacao powder
¼ teaspoon vanilla powder
pinch sea salt
1 cup pitted medjool dates
½ cup goji berries
2 to 3 tablespoons white chia seeds
Line an 8.5 x 4.5-inch glass bread pan with parchment paper.
Place the cashew butter, melted coconut oil, raw cacao, and sea salt into a food processor fitted with the "s" blade; process until a paste forms. Then add the dates and process again until dates until smooth. Then add the goji berries and chia seeds; pulse to combine them. For smoother fudge, add all ingredients to a high-powdered blender, except for the goji berries and chia seeds, and blend until smooth. Stir in the remaining ingredients. 
Press fudge mixture into pan evenly with oiled hands. Place pan into the refrigerator to chill until hardened. Once solid, you can slice the fudge into small squares. Store small squares of fudge in your freezer or in your refrigerator.
Yield: about 12 to 16 servings
Tip: Make sure you are using fresh, soft dates. Older dates tend to loose moisture and become harder to blend, especially in a recipe like this.
FAQs
What's different about this edition?
We've added four whole new chapters (The Whole Diet Story, Digestive Health, The Whole Toxicity Story, Smoothies, and Get Cultured!). Plus, we revised the information in the other chapters to make sure all of the science was completely up-to-date. There are also 100 new recipes in this edition! 
How similar is this book to your Nourishing Meals cookbook?
They are two completely different books. Each has its own recipes, there are no crossovers. Both books are gluten-free and offer healthy whole foods recipes, but that's as similar as it gets. You'll probably want to have both books if you enjoy my recipes.
Is this book available on Kindle?
Yes, you can go to Amazon.com to order it now.
Does this edition have photos?
Yes, there are about 75 color photos in the book.
Is the book Gluten-Free?
Yes, the entire book is gluten-free with many grain-free recipes. The book includes optional dairy in a few recipes. There are also a few recipes with eggs and soy (tempeh, miso, and tofu).
Do the recipes contain xanthan or guar gums?
No, all of the recipes are free of gums. Instead I have used chia seeds or just created the recipes to not need any binders.
I'm Vegan, are there enough recipes to suit my needs?
Yes, we focus on eating a plant-rich diet with the addition of healthy & sustainable sources of meat, poultry, and seafood. There are many vegan recipes in this book including recipes for main dishes, breakfasts, baked goods, and desserts.
Testimonials
Excellent Nutritional Guide and Cookbook
This is my favorite cookbook ever! Which is not an easy feat based on my many special diet needs. The recipes I have tried are enjoyed by my family. Ali and Tom have attended to every detail to make this well worth adding it to your collection. You do have a collection of cookbooks, right? Well, this would be my top pick of the 50 plus cookbooks that I own.
Life Saver
I have literally raised my family on Segersten and Malterre's work. They were my main guide when introducing solids to my babies. When my family changed from vegetarian to omnivore for my daughter's health, I completely depended on their writing to learn how to cook, shop, and consume meat in a way that is healthy for person and planet. I own all their books, and order the newest as quickly as it is released. You should see my copies - food stains on every page!
Well-written, Nutritious & Delicious!
There's so much to love about this newest edition of the Whole Life Nutrition Cookbook. No matter what your dietary preferences, there are well-written, nutritious, & delicious recipes here for you.
My Absolute Favorite Cookbook!
I adore this cookbook! Out of all the pristine ones on the shelf... this is the one with folded pages, tomato sauce on the pages, and spices in the binding. I use it all the time, and have yet to make something I didn't love. It makes me branch out of my comfort zone and delve into some delicious combinations I would have never thought of. Highly recommend for everyone, not just allergy families! :)
Lots of wholesome, yummy recipes!
Make things from this frequently--perfect for any family looking to be healthy and for those with food allergies. Love!
Best cookbook I own! (and it's beautiful!)
I wish I had ordered this book sooner! It's fantastic. Loads of yummy recipes. Some are very simple and smartly done. Some have us exploring new and exciting foods. Everything that we have tried so far has been easy to follow and delicious. There is even a section on eating fermented/cultured foods with recipes! Just awesome! I would buy this as a gift for a friend or family member.
Amazing team!
This husband and wife team are really something else. I have been following them for the last 5 years after my sister gave me their first cookbook. I love their blog, and so appreciate that they stay current with the new and changing world of nutritional science. It is reflected in their philosophy and comes through with love in the care that is taken to provided wholesome and safe recipes. I have made pickles and sauerkraut this summer, and am getting ready to make some fermented veg out of all the beets and carrots I have in my garden!
This cookbook is a must for all clean eating kitchens
The minute my book arrived I started cooking up a storm and have continued to try on a new recipe each day. The recipes use simple ingredients that are combined in away that leave you feeling like you have just prepared a delicious gourmet meal. I love the variety and this is proving to be my go to book for daily meal planning. I am also quite excited about experimenting with fermenting veggies too. This will be one of my fabulous holiday gifts for my family and friends.
My favorite book. I am new to whole foods gluten
My favorite book. I am new to whole foods gluten and dairy free cooking and I would be lost without this book.
What a great informational book!
I took the first book out of the library and loved it but this one is so much better. There is so much information in this book. I also subscribe to the blog. Whenever I have free time, this book is in my hands.
A great resource for anyone trying to make healthier food choices.
The Whole Life Nutrition Cookbook is a great resource for anyone trying to make healthier food choices. Not only does it give you tons of great recipes - including muffins, healthy snacks, and desserts (My favorites!) but it also tells you how to how to set up your pantry to adopt a lifestyle that supports making those great food choices.
There is great variety in the recipes selected. You'll find choices for breakfast, lunch, dinner and snacks with plenty of options for each so that you won't get bored eating the same things over and over again.
I highly recommend this cookbook to anyone who is serious about cleaning up their diet for good and needs help getting there.
As always, these authors deliver
I'm a functional medicine doctor and have recommended the prior version of this book to many, many patients. This new version takes all of what I liked about the original version and improves on it. Additionally, they have fleshed out the allergen elimination diet concept and spun that out as a full-featured booklet on their website, which pairs beautifully with the cookbook itself.
If you are looking for a book that helps give an intro into eating a more mindful, nutrient dense diet, then this book is for you. It does not follow any particular dogma of paleo or vegan or raw or what have you, but the information in it, a well as the recipes, are applicable to any healthy nutrition plan.