Gluten-Free, Dairy-Free, and Soy-Free Dishes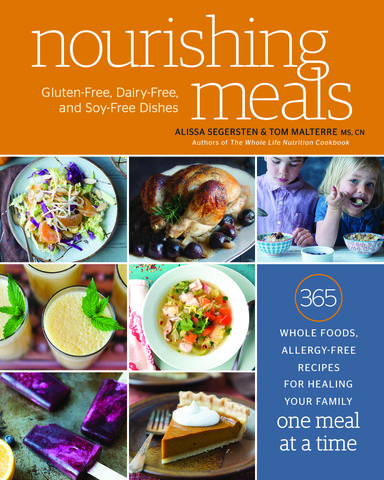 Nourishing Meals is the ultimate guide to eating healthfully as a family—a simple, practical cookbook that shows how easy it is to ditch processed foods one meal at a time with 365 delicious, whole food-based, allergen-free recipes that the entire family will love.
It can be daunting to live a whole foods lifestyle in today's busy world—even more so to prepare plant-rich, allergen-free meals that'll get the whole family around the table. Popular blogger Ali Segersten and functional medicine expert Tom Malterre are a team devoted to teaching their five children—and readers—the importance of living a whole foods lifestyle. Nourishing Meals makes it easy and fun with dishes that burst with flavor, such as their Cherry Pecan Salad, Butternut Squash and Pinto Bean Enchiladas, Chipotle-Lime Roasted Chicken, and Banana Coconut Cream Pie. 
The Nourishing Meals book includes recipes that are free of the most common allergens: gluten, soy, and dairy, as well as refined sugar. And these dishes are designed to appeal to everyone, including vegan, vegetarian, seafood, and meat-eaters. In addition to wonderful food, Ali and Tom offer easy, doable steps to help you change your family's health, tips for making the transition easier, and ways to get the kids excited about wholesome foods. They map out the best foods and recipes for every stage of having a family, from pre-conception and pregnancy through each year of a child's life. And they explain in accessible terms what makes their recipes so effective for achieving optimal health. This brand new edition features more than 30 new recipes, and many of the original recipes have been updated. This edition also includes over 50 beautiful all-new food photos featured in two inserts. 
With an easy, tasty recipe for every day of the year, it's never been simpler to adopt a healthy, whole foods lifestyle!
SKU:
WHL-NOURISHINGMEALS-2
Order The Book
And get a FREE Bonus Gift!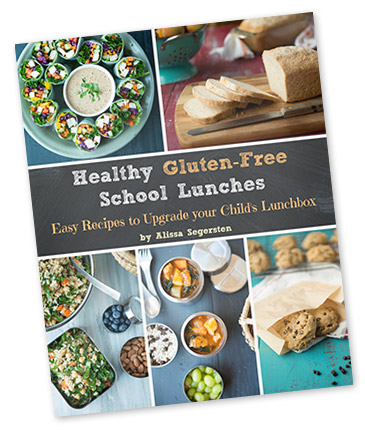 Order the new Nourishing Meals book and get my eBook, Healthy Gluten-Free School Lunches for FREE! This interactive eBook contains all new recipes and offers some great tips and recipes for creating nourishing, allergen-free school lunches that increase brainpower and focus!
Step 1: Buy the book from a store below
Step 2: Come back to this page and complete this form:

Purchasing outside the United States?
Book Details
365 nourishing gluten-free recipes (including many grain-free recipes)
How to raise a healthy eater
Guide to introducing solid foods to babies
Key nutrients for pregnancy and childhood and contributors of deficiencies
How to pack a healthy school lunch
Creating balanced family meals
Vegan, vegetarian, seafood, and meat main dishes
Nutritional benefits of soups and stocks
Tips for getting your children to eat more vegetables
Tips for a quick, nutritious breakfast
Charts for soaking and cooking whole grains
Wholesome gluten-free breads and muffins, including sourdough recipes
Alternatives to refined sugar
Ways to preserve the harvest, including recipes for lacto-fermented vegetables
Paperback: 528 pages
Publisher: Harmony (October 11, 2016)
Language: English
ISBN-10: 0451495926
ISBN-13: 978-0451495921
Product Dimensions: 8 x 1.2 x 10 inches
Shipping Weight: 3 pounds
Editorial Reviews
"[A] comprehensive, enthusiastic guide to whole-foods living… [and a] rousing call to parents trying to raise healthy kids. What follows are 365 appetizing and practical recipes for nutritious meals and snacks that put the authors' philosophy into practice. Readers will find a persuasive argument for adopting this lifestyle and plenty of advice to get started." – Booklist
"There are many good cookbooks available today in the gluten-free world. There are a few excellent cookbooks. And then there are the 'Great Ones'. Nourishing Meals is in the latter category-incredibly delicious, wholesome and easy to prepare, this cookbook is destined to be dog-eared and stained from use in no time flat. Ali Segersten, I would sit at your table any and every day to eat your nourishing meals." - Dr. Tom O'Bryan, author of The Autoimmune Fix
"Tom Malterre and Ali Segersten write, without a doubt, the best cookbooks for people and families who want healthful, nutritious and allergy-free cooking. Nourishing Meals, 2nd edition is their newest assemblage.

Whether you actually need to be dairy, gluten, or soy-free, you'll find the recipes to be delicious and expand your ideas about cooking in the 21st century. Whether it's the meals, the smoothies, or the deserts you'll say YUM!" - ~Liz Lipski, PhD, CNS, IFMCP, LDN
Maryland University of Integrative Health
Author of: Digestive Wellness and Digestive Wellness for Children
Sample Recipes
Nori Rolls with Pumpkin Seed-Parsley Pâté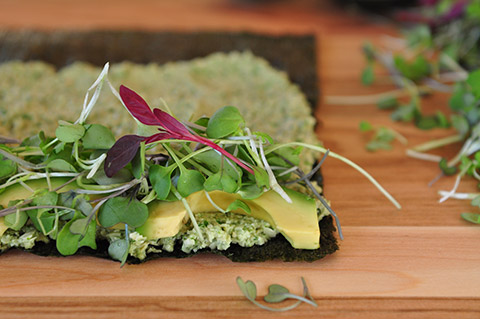 This nutrient dense lunch or snack will keep you energized all day. Soaked pumpkin seeds are more digestible and also easy to blend down into a paste. Add your favorite veggies to the nori rolls along with the pâté. Try sliced cucumbers, red bell peppers, shredded carrots, or spinach leaves.
Pâté
1 cup raw pumpkin seeds, soaked for 8 hours
1 lemon, juiced
1 tablespoon extra virgin olive oil
1 clove garlic, crushed
¾ teaspoon Herbamare
large handful fresh parsley
water
Other Ingredients:
4 nori sheets
sliced avocado
micro greens
Rinse and drain the soaked pumpkin seeds. Add them to a food processor fitted with the "s" blade. Add the lemon juice, olive oil, garlic, and Herbamare. Process until smooth, scraping down the sides if necessary. Add the parsley and process again. Add water, a tablespoon at a time, until you get the desired consistency.
Spread pâté onto nori. Add the avocado and micro greens to one end of the nori sheet, then roll. Let rest for a few minutes before slicing. Repeat with remaining ingredients.
Yield: 4 nori rolls
Nutrition Tip: Pumpkin seeds are high in minerals such as manganese, magnesium, phosphorus, copper, and zinc. Soaking the seeds enables these minerals to become more available.
Zucchini Almond Pancakes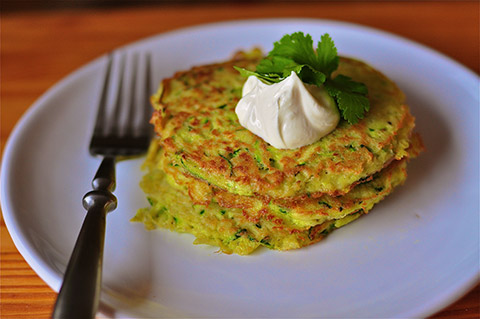 I like to make these savory grain-free, protein-packed pancakes on a summer morning before we head out for the day. Combined with a green smoothie they create an energizing breakfast! These store well in the refrigerator, but if you prefer to make a smaller batch halve the recipe. Top each pancake with a dollop of sour cream or Cashew Sour Cream, and chopped parsley if desired.
4 large organic eggs
3 cups grated zucchini
¾ to 1 cup almond flour
½ cup minced onion
½ to 1 teaspoon Herbamare or sea salt
freshly ground black pepper
olive oil or butter for cooking
Mix all ingredients except the oil together in a medium-sized bowl. Batter will thin a little as it sits.
Heat a 10-inch stainless steel skillet or cast iron skillet over medium-low heat. Be sure to heat your pan long enough before adding the oil and batter, otherwise the pancakes will stick. Add about 1 tablespoon olive oil. Drop batter by the ¼ cup into the hot skillet. Cook for a few minutes on each side. Repeat with remaining batter, adding a little oil or butter to the skillet before cooking each pancake.
Yield: 10 to 12 pancakes
Kitchen Tip: A well-seasoned cast iron skillet keeps pancakes from sticking to the bottom of the pan and is especially useful in this recipe.
Questions about Nourishing Meals
Are there new recipes in this edition?
Yes there are over 30 new, kid-approved recipes in this revised edition.
 
Is this book Paleo?
The Nourishing Meals book offers many paleo recipes, as well as vegan, and gluten-free whole grain-based recipes.