Do you ever feel that your children are not eating enough fresh greens? Did you know that by adding greens like kale, spinach, and collards to a blender with fresh fruits and water, you can create the most nourishing, healthy green drink that they will LOVE?
 
Remember that greens (kale, collards, and other raw cruciferous veggies) have compounds in them that ramp up the body's own capacity to safely remove toxins from the body. Now, more than ever, our children need these foods to help them detoxify from the ever-increasing burden of environmental chemicals.
Green smoothies are a perfect way to do this! We began making green smoothies about 10 years ago when our second daughter was a baby. She was hooked at 9 months old with her first sip. Now our children make their own green smoothies regularly, and they are going to show you how in the video below! But first here are 5 tips to consider when first introducing green smoothies to your children. 
5 Tips to Ease Children into Loving Green Smoothies:
Start with more fruit and less greens! You can make a berry-banana smoothie and add 2 to 3 kale leaves without changing the color of the smoothie. Gradually add a little more greens each time you make a smoothie. In no time, they will most likely love all forms of green smoothies. 
Use creamy fruits! Add in a frozen banana and 1/2 of an avocado to each smoothie. This will give it a rich, creamy feel in the mouth that your kids will love! 
Use a high-powered blender for making green smoothies! High-powered blenders, such as a Vitamix, thoroughly break down the greens so the smoothie is very smooth. A regular blender has a difficult time blending up the fibers in the greens making the texture of the smoothie less desirable for children. 
Always serve with a straw! As you will see in the video, our children love to use glass straws when drinking their smoothies. A straw makes everything much more fun! 
Use a colored or opaque cup for serving! If your children are new to the green color of their smoothie, serve it in a colored cup with a lid and a straw. We always use glass, but to start, try something opaque so they can taste the yumminess with their mouth instead of being afraid to even try it when first seeing it.
Our children show you how they like to make a green smoothie with fresh pineapple, frozen banana, water, chia seeds, avocado, kale, and cilantro! Use these ingredients to make a delicious smoothie during Phase 1 of our Elimination Diet!
Children need raw greens to help them detoxify from the ever-increasing burden of environmental chemicals. A daily green smoothie can do this!
How to Make Green Smoothies your Children will Love!
When creating a green smoothie that your children will love consider the color, texture, and flavors. You can begin introducing green smoothies to children between 8 and 10 months of age. By starting young, your child will have a natural acceptance of green foods and slightly bitter flavors. If you have an older child who you would like to introduce green smoothies to, follow the guidelines below. And remember, let your children watch you enjoy green smoothies first in order for them to naturally begin to accept them. If you force something upon them you will probably meet resistance. The best tip I can give you is to have your child participate in the green smoothie making process. Let them help pick the fruits and greens for the smoothie! This way they will be more apt to enjoy the finished product. 
Color
If you want a beautifully colored smoothie, keep in mind which colorful fruits and veggies you are combining. My kids don't mind a brown smoothie but some children won't drink an unappealing smoothie (even if it tastes great). We first taste with our eyes, so it's important to be mindful in combining ingredients when introducing green smoothies to children. I like to make dark purple smoothies with berries, cherries, oranges, and greens like napa cabbage and a little kale. We love making vibrant bright green smoothies using pineapple, banana, avocado, and greens like kale and collards.
Texture
Use a high-powered blender, such as a Vitamix, for making creamy smoothies. Also consider using at least one creamy ingredient like avocado, frozen banana, coconut oil or coconut butter, chia seeds, or a nut butter. Adding fat to your smoothies not only creates a nice texture, but also is needed so you can properly absorb the carotenoids from the greens! 
Flavor
For children who are new to green smoothies, always start with more fruit and less greens, then gradually increase the amount of greens in your smoothie. This way they can gradually get used to the bitter flavors from the greens. We use more greens and less fruit, which makes the smoothie much more nutritionally dense (and contains less sugar this way).
I also like to add the juice from 1 to 2 lemons or limes in addition to other liquids. Not only do the lemons and limes provide a hearty dose of vitamin C and bioflavonoids, but they help balance the flavor of the bitter greens. If I'm not adding oranges or pineapple, I almost always add fresh lemon or lime juice. 
Directions:
First add 2 to 3 cups of chopped fruit and 2 to 3 cups of liquid. Then blend until smooth. If you are adding a lot of avocado or chia seeds, you may need up to 4 cups of liquid. Then add your greens, herbs, and superfoods. Blend again until super smooth. Taste and add more tangy fruit like citrus if the smoothie tastes bitter, or add more greens if it is too mild; and blend again. 
Store any leftover smoothie in a covered glass jar in your refrigerator for up to 2 days, or freeze in popsicle molds for a fun frozen treat!
Yield: about 6 to 8 cups
If you need more detailed guidance in making green smoothies, then turn to our Whole Life Nutrition Cookbook and Elimination Diet book, which contain some of our favorite green smoothie recipes! Enjoy!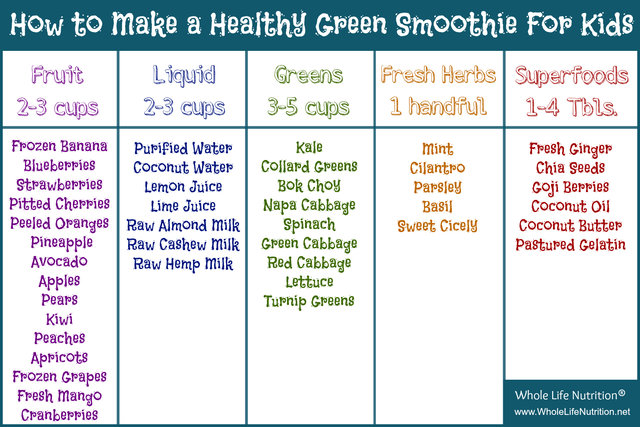 Stay up to date with the current science and recipes that can help make your family healthy.