Supplement Package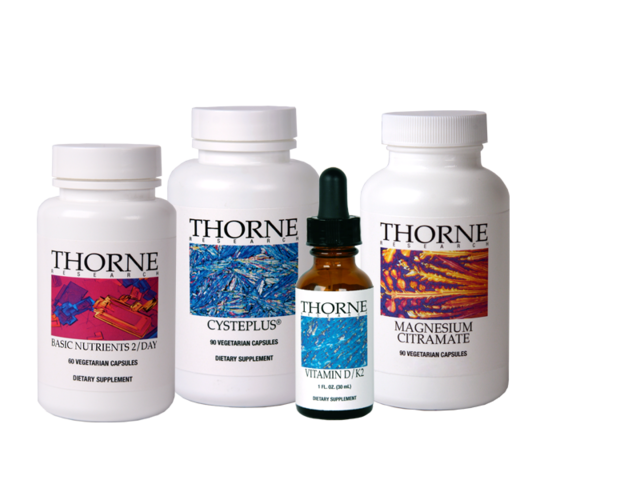 The Essentials package provides extra-pure sources all of the foundational essential vitamins and minerals along with additional supplementation of Vitamin D3/K2, Magnesium CitraMate, and N-Acetyl Cysteine for enhanced energy.
Thorne Research provides the industry standard in hypoallergenic ultra-pure supplements to assure there is absolutely no cross-contamination of foods, microbes, lactose, and toxic substances.* (US Orders Only; Thorne Does Not Ship to Canada)
Free Shipping on Supplement Orders Over $125.
A high quality multi-vitamin/mineral supplementthat uses the purest, most bioavailable raw materials– without adding anyunnecessary additives and preservatives.*
A combination of vitamins D3 and K2 in an easy to dose liquid form for optimal absorption.
A foundational ingredient for supporting optimal levels of the human body's most important antioxidant, glutathione.* Cysteine is the rate-limiting ingredient for the body to make glutathione.*
A magnesium bound to citrate-malate for superior absorption.*Magnesium is present in all cells of the body and is involved in over 300 enzymatic processes, including energy production.
*These statements have not been evaluated by the Food and Drug Administration. This product is not intended to diagnose, treat, cure, or prevent any disease.