Supplement Package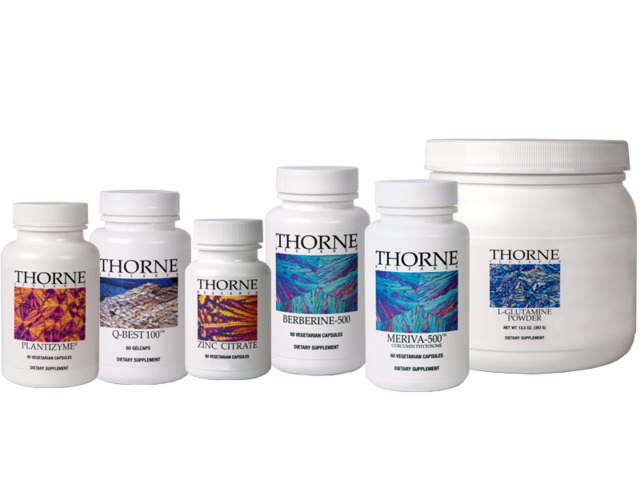 The Gut Healing Support Package contains one of the world's most commonly used microbe balancing herbal extracts (Berberine 500)*, an essential mineral for intestinal health (Zinc Citrate)*, an amino acid used by the intestinal cells for energy (L-Glutamine)*, a powerful plant-based digestive enzyme (Plantizyme)*, and a potent herbal anti-inflammatory (Meriva 500)*. (Please note that Q-BEST 100 is not included in the Gut Healing Support Package. We apologize for any inconvenience.)
Thorne Research provides the industry standard in hypoallergenic ultrapure supplements to assure no cross-contamination of foods, microbes, lactose, and toxic substances. (US Orders Only; Thorne Does Not Ship to Canada)
Free Shipping on Supplement Orders Over $125.
Long known for its role in maintaining intestinal health*, berberine extracts are now being researched for their role in glucose metabolism, maintenance of healthy lipid levels, insulin sensitivity, cardiac support, weight management, immune modulation, and cognitive support.
Zinc has been shown to enhances normal intestinal cell function and assists in maintaining a healthy intestinal barrier. *
The gastrointestinal tract is the greatest user of glutamine in the body because glutamine provides the primary fuel for the nutrientabsorbing cells that line the walls of the small intestine.* In numerous animal studies, in which hyperpermeability of the intestine (aka-"leaky gut") is experimentally induced, the addition of glutamine improved permeability function as well as the gut's immune function.*
When the stomach and intestines are damaged, it is possible for the secretion of gastric acid and enzymes to decrease. This may increase the need for support to maintain normal digestive function. Plantizyme includes support for carbohydrate, fat, and protein digestion.
As one of the most researched and well-known plant-based antiflammatory, curcuminoids from turmeric have also been shown to provide antioxidant and liver protective activity as well.* Meriva is a patented phytosome product with significantly increased bioavailability demonstrated in multiple clinical trials.*
*These statements have not been evaluated by the Food and Drug Administration. This product is not intended to diagnose, treat, cure, or prevent any disease.