Supplement Package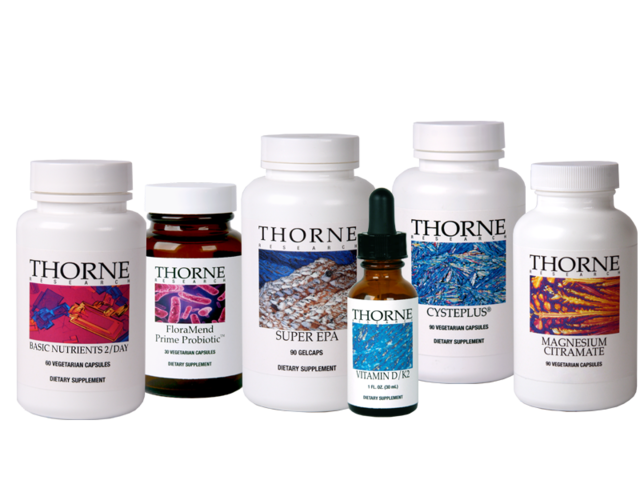 The essentials package plus focuses on the cornerstone products for supporting optimal health including a multi-vitamin, vitamin D/K2, a purified fish oil, N-acetyl cysteine, a highly-stable probiotic, and extra magnesium in a superior bioavailable form.*
It is designed to assist you in achieving your essential needs for vitamins,minerals, essential fatty acids, and probiotics, while adding additional support for maintaining energy, immune function, and antioxidant status.*
Separate vitamin D3/K2 and magnesium supplements allow for precise dosing. Thorne Research provides the industry standard in hypoallergenic ultra-pure supplements to assure no cross-contamination of foods,microbes, lactose, and toxic substances.* (US Orders Only; Thorne Does Not Ship to Canada)
Free Shipping on Supplement Orders Over $125.
A high quality multi-vitamin/mineral supplement that uses the purest, most bioavailable raw materials– without adding any unnecessary additives and preservatives.
A combination of vitamins D3 and K2 in an easy to dose liquid form for optimal absorption.
An ultra-pure fish oil source of essential fatty acids to assist in maintaining a normal inflammatory response. Molecular distillation is used to ensure the removal of any contaminants such as PCBs and heavy metals.
A foundational ingredient for supporting optimal levels of the human body's most important antioxidant, glutathione. Cysteine is the rate limiting ingredient for the body to make glutathione.
A dairy- and allergen-free proprietary blend of three essential strains of vital probiotics: Lactobacillus gasseri, Bifidobacterium bifidum, and Bifidobacterium longum. Because of the unique culturing methods and proprietary combination of these strains, FloraMend Prime Probiotic is stable at room temperature and does not need refrigeration.
A magnesium bound to citrate-malate for superior absorption. Magnesium is present in all cells of the body and is involved in over 300 enzymatic processes, including energy production.
*These statements have not been evaluated by the Food and Drug Administration. This product is not intended to diagnose, treat, cure, or prevent any disease.