60 Vegetarian Capsules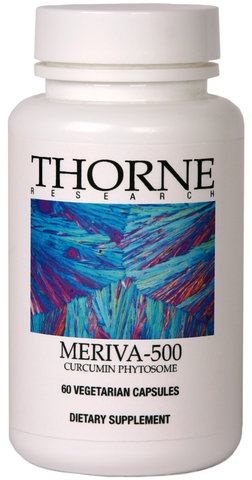 Meriva-500 is a unique, patented curcumin product. Whether taken as a supplement or from food, curcumin is generally poorly absorbed into the bloodstream.
In conjunction with Indena S.p.A., the worldwide experts in botanical extract technology, we have uncovered the key to curcumin absorption – phytosome technology. Meriva curcumin phytosome is a unique curcumin extract that is significantly better absorbed than other curcumin extracts. A 2010 randomized, single-blind, crossover human study revealed total curcuminoid bioavailability, as evaluated by the plasma area under the curve (AUC), to be 29-fold higher for Meriva than for the conventional standardized curcumin extract.* (US Orders Only; Thorne Does Not Ship to Canada)
Free Shipping on Supplement Orders Over $125.
ALLERGY WARNINGS
This product is contraindicated in an individual with a history of hypersensitivity to any of its ingredients.
Meriva-500 contains curcumin phytosome – a plant extract complexed with phosphatidylcholine, which is derived from soy. Phosphatidylcholine contains no soy protein. There are no other soy-based ingredients in Meriva-500.
EXCIPIENT FREE
This product does not contain wheat, gluten, corn, yeast, egg, dairy products, or artificial colors, sweeteners, or flavors. This product also does not contain lactose, palmitic acid, or magnesium, calcium, or vegetable stearates.
PREGNANCY WARNING
If pregnant, consult your health-care practitioner before using this product.
INTERACTIONS/CONTRAINDICATIONS
Curcumin has been shown to reduce the therapeutic efficacy of cyclophosphamide (Cytoxan) in animal studies. In vitro research revealed that curcumin decreased camptothecin-induced death of cultured breast cancer cells. Curcumin might also interfere with the absorption and efficacy of the chemotherapy drug irinotecan, used to treat colon cancer. The concurrent use of curcumin with these agents should be avoided.