60 Capsules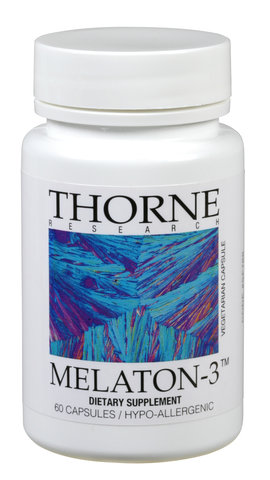 Melaton-3 is ideal for those individuals requiring a moderate amount of melatonin. (US Orders Only; Thorne Does Not Ship to Canada)
Free Shipping on Supplement Orders Over $125.
ALLERGY WARNINGS
This product is contraindicated in an individual with a history of hypersensitivity to any of its ingredients.
EXCIPIENT FREE
This product does not contain wheat, gluten, corn, yeast, soy, egg, dairy products, or artificial colors, sweeteners, or flavors. This product also does not contain lactose, palmitic acid, or magnesium, calcium, or vegetable stearates.
PREGNANCY WARNING
If pregnant or nursing, do not use this product.
INTERACTIONS/CONTRAINDICATIONS
Because melatonin may potentiate the effect of blood-thinning medications, Melaton-3 should be used with caution or avoided in individuals on anticoagulant therapy.