60 Capsules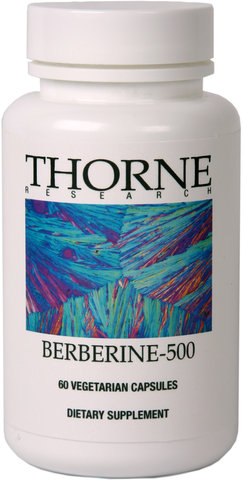 Berberine is an alkaloid that is present in a number of plants, including Berberis vulgaris (barberry), Berberis aristata (tree turmeric), Berberis aquifolium (Oregon grape), Hydrastis canadensis (goldenseal), and Coptis chinensis (goldthread).
This important plant extract demonstrates important benefits for glucose metabolism, maintenance of healthy lipid levels, insulin sensitivity, cardiac support, weight management, gastrointestinal health, immune modulation, and cognitive support.* (US Orders Only; Thorne Does Not Ship to Canada)
Free Shipping on Supplement Orders Over $125.
ALLERGY WARNING
This product is contraindicated in an individual with a history of hypersensitivity to any of its ingredients.
PURITY
This product does not contain wheat, gluten, corn, yeast, soy, egg, dairy products, or artificial colors, artificial sweeteners, or artificial flavors. This product also does not contain lactose, palmitic acid, magnesium stearate, or stearic acid.
PREGNANCY WARNING
If pregnant, nursing, or trying to conceive, do not use this product.
INTERACTIONS
Has been shown to decrease the activity of the cytochrome p450 (CYP) enzymes CYP2D6, CYP2C9, and CYP3A4.