90 Gelcaps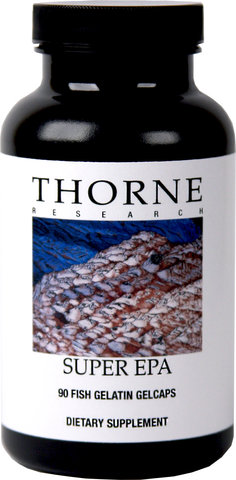 Super EPA (an EPA/DHA-containing fish oil supplement) has been one of Thorne Research's best-selling products for over two decades because of its exceptional purity and quality.
This concentrated formula provides the amounts of EPA and DHA that recent research says is warranted, without having to take extra capsules.
Thorne Research provides the highest quality, purest fish oil available – molecular distillation is utilized to ensure removal of cholesterol and contaminants, including PCBs and heavy metals. (US Orders Only; Thorne Does Not Ship to Canada)
Free Shipping on Supplement Orders Over $125.
ALLERGY WARNINGS
This product is contraindicated in an individual with a history of hypersensitivity to any of its ingredients. The contents of Super EPA and the gelatin in the Super EPA softgel capsule are derived from fish.
EXCIPIENT FREE
This product does not contain wheat, gluten, corn, yeast, soy, egg, dairy products, or artificial colors, sweeteners, or flavors. This product also does not contain lactose, palmitic acid, or magnesium, calcium, or vegetable stearates.
PREGNANCY WARNING
If pregnant, consult your health-care practitioner before using this product.
INTERACTIONS/CONTRAINDICATIONS
There are no known adverse interactions or contraindications at publication date.