60 Gelcaps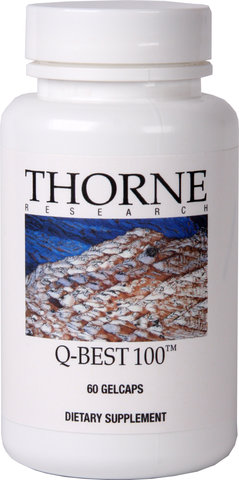 Q-Best is a proprietary, crystal-free preparation of coenzyme Q10 (aka ubiquinone) that consistently has demonstrated superior absorption over other forms of CoQ10, including dry powder, oil-based softgels, lipsosomes, micelles, and nanoparticle preparations. (US Orders Only; Thorne Does Not Ship to Canada)
Free Shipping on Supplement Orders Over $125.
ALLERGY WARNINGS
This product is contraindicated in an individual with a history of hypersensitivity to any of its ingredients. The gelcap gelatin in Q-Best is derived from fish (tilapia). Q-Best contains monoglycerides which are derived from soy. These monoglycerides contains no soy protein. There are no other soy-based ingredients in Q-Best.
PURITY
This product does not contain wheat, gluten, corn, yeast, egg, dairy products, or artificial colors, artificial sweeteners, or artificial flavors. This product also does not contain lactose, palmitic acid, or magnesium, calcium, or vegetable stearates.
PREGNANCY WARNING
If pregnant, consult your health-care practitioner before using this product.
INTERACTIONS
There are no known adverse interactions or contraindications at publication date.