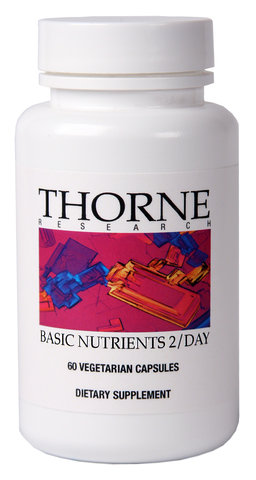 Basic Nutrients 2/Day, Thorne Research's newest Basic Nutrients formula, provides a comprehensive multi-vitamin/mineral complex.
Its key nutritional features includes 2,000 IU of vitamin D3 and 400 mcg of vitamin K (in K1 and K2 forms) per serving, in addition to having mixed tocopherols, bioactive B-vitamins, and amino acid-chelated minerals, including calcium and magnesium – all in a two-capsule-per-day delivery system.
Basic Nutrients 2/Day makes it easier to ensure that your patients are getting the foundational nutritional support they need for the day. Plus, Basic Nutrients 2/Day is soy-free, gluten-free, and GMO-free! (US Orders Only; Thorne Does Not Ship to Canada)
Free Shipping on Supplement Orders Over $125.
ALLERGY WARNINGS
This product is contraindicated in an individual with a history of hypersensitivity to any of its ingredients. Iodine may occasionally cause an allergic reaction in some individuals.
PURITY
This product does not contain wheat, gluten, corn, yeast, soy, egg, dairy products, or artificial colors, artificial sweeteners, or artificial flavors. This product also does not contain lactose, palmitic acid, magnesium stearate, or stearic acid.
PREGNANCY
If pregnant, consult your health-care practitioner before using this product.
INTERACTIONS
There are no known adverse interactions or contraindications at publication date.
ADDITIONAL WARNINGS
5-methyltetrahydrofolate supplementation is not recommended concurrently with methotrexate cancer therapy, as it can interfere with methotrexate's anti-neoplastic activity; however, this folate source has not been shown to interfere with the anti-inflammatory activity of methotrexate. An individual taking methotrexate for psoriasis or rheumatoid arthritis can safely take a supplement containing folate.