90 Capsules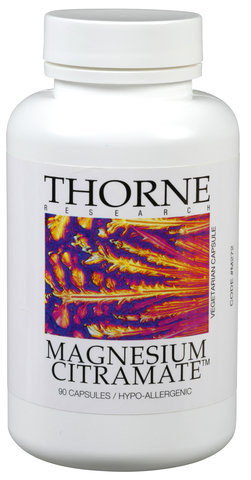 Magnesium Citramate provides magnesium bound to citrate-malate for superior absorption.*
Both magnesium and malic acid have been found to provide support to individuals with muscle tenderness and fatigue.*
A study of 24 individuals found malic acid along with 300 mg magnesium (equivalent to 2 capsules of Magnesium Citramate) taken two times daily provided significant support in measurements of tenderness and discomfort.* (US Orders Only; Thorne Does Not Ship to Canada)
Free Shipping on Supplement Orders Over $125.
ALLERGY WARNING
This product is contraindicated in an individual with a history of hypersensitivity to any of its ingredients.
EXCIPIENT FREE
This product does not contain wheat, gluten, corn, yeast, soy, egg, dairy products, or artificial colors, sweeteners, or flavors. This product also does not contain lactose, palmitic acid, or magnesium, calcium, or vegetable stearates.
PREGNANCY WARNING
If pregnant, consult your health-care practitioner before using this product.
INTERACTIONS/CONTRAINDICATIONS
There are no known interactions or contraindications at publication date. OTHER WARNINGS Gas, bloating, or diarrhea may occur in some individuals taking magnesium supplements. This can occur at varying amounts depending on the individual and resolves when the amount is reduced.