60 Capsules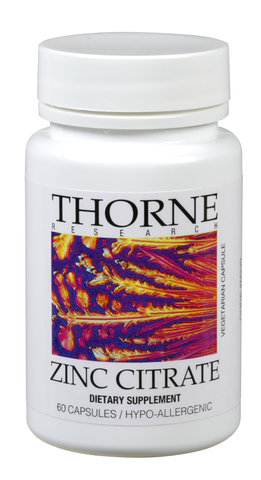 Low-molecular-weight organic acids, such as citrate, have a positive effect on zinc absorption.*
Certain dietary factors, such as phytic acid found in grains, can interfere with the body's absorption of minerals.
An animal study found citrate can offset the negative effects of dietary phytic acid on zinc absorption. (US Orders Only; Thorne Does Not Ship to Canada)
Free Shipping on Supplement Orders Over $125.
ALLERGY WARNING
This product is contraindicated in an individual with a history of hypersensitivity to any of its ingredients.
EXCIPIENT FREE
This product does not contain wheat, gluten, corn, yeast, soy, egg, dairy products, or artificial colors, sweeteners, or flavors. This product also does not contain lactose, palmitic acid, or magnesium, calcium, or vegetable stearates.
PREGNANCY WARNING
If pregnant, consult your health-care practitioner before using this product.
INTERACTIONS/CONTRAINDICATIONS
Zinc can inhibit the absorption of copper. Long-term zinc supplementation should include copper in a 15:1 (Zn:Cu) ratio.