12 oz (340 g)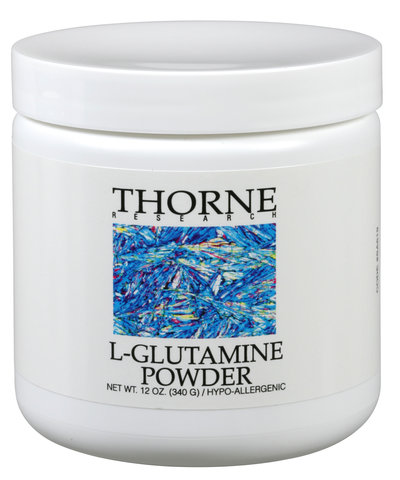 L-glutamine, the most prevalent amino acid in the bloodstream, is found in high concentration in skeletal muscle and lung, liver, brain, and gastrointestinal tissues.
The gastrointestinal tract is the greatest user of glutamine in the body because glutamine provides the primary fuel for the nutrient-absorbing enterocytes of the small intestine.*
Under certain circumstances the body's tissues need more glutamine than the amount supplied by diet and internal production.* Evidence suggests supplemental glutamine may provide benefit for gastrointestinal health, as well as support of wound healing, immune health, and nutrient support of individuals undergoing chemotherapy and radiation.* (US Orders Only; Thorne Does Not Ship to Canada)
Free Shipping on Supplement Orders Over $125.
ALLERGY WARNINGS
This product is contraindicated in an individual with a history of hypersensitivity to any of its ingredients.
EXCIPIENT FREE
This product does not contain wheat, gluten, corn, yeast, soy, egg, dairy products, or artificial colors, sweeteners, or flavors. This product also does not contain lactose, palmitic acid, or magnesium, calcium, or vegetable stearates.
PREGNANCY WARNING
If pregnant, consult your health-care practitioner before using this product.
INTERACTIONS/CONTRAINDICATIONS
There are no known adverse interactions or contraindications at publication date.