8.1 Oz (231 G)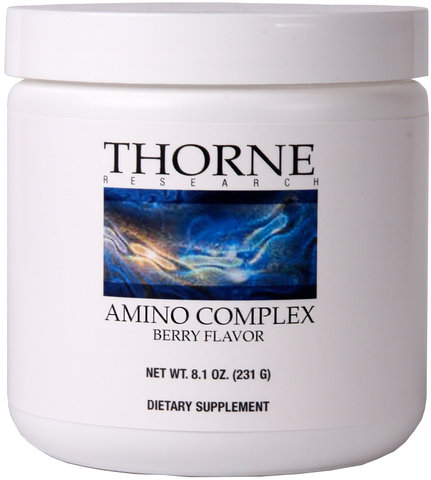 Amino acid supplementation has been shown to decrease fat synthesis, improve redox status, and promote energy production via activation of NRF-2 and PGC-1alpha.*
The comprehensive blend of essential amino acids in Amino Complex is high in branched-chain amino acids and has been validated through extensive clinical trials to promote lean muscle mass and muscle strength.*
The active ingredient formulation in Amino Complex has over 25 years of scientific and clinical research. Amino Complex is a delicious, berry-flavored, lightly-sweetened formula without artificial flavors or sweeteners that mixes easily in warm or cold liquids. (US Orders Only; Thorne Does Not Ship to Canada)
Free Shipping on Supplement Orders Over $125.
ALLERGY WARNING
This product is contraindicated in an individual with a history of hypersensitivity to any of its ingredients.
PURITY
This product does not contain wheat, gluten, corn, yeast, soy, egg, dairy products, or artificial colors, artificial sweeteners, or artificial flavors. This product also does not contain lactose, palmitic acid, magnesium stearate, or stearic acid.
PREGNANCY
If pregnant, consult your health-care practitioner before using this product.
INTERACTIONS
There are no known adverse interactions or contraindications at publication date.