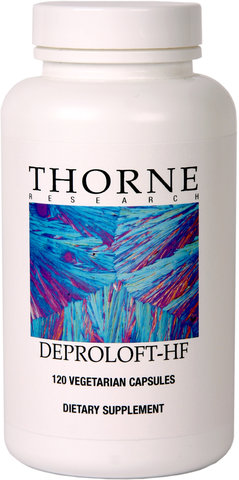 Deproloft-HF is a multi-faceted formula designed to safely enhance mood and cognition.*
It combines several known mood-enhancing nutrients and botanicals, such as L-tyrosine and 5-HTP, with other key ingredients, including Rhodiola, Eleutherococcus, and PharmaGABA, to promote healthy neurotransmitter and adrenal function.*
Deproloft-HF is "Hypericum free."
Hypericum (St. John's wort) is a known inducer of cytochrome p450 3A4 (CYP3A4) and thus can reduce blood levels of medications that are metabolized via this enzyme. Because it does not contain Hypericum, Deproloft-HF is suitable for patients who are taking medications that are metabolized by CYP3A4.* (US Orders Only; Thorne Does Not Ship to Canada)
Free Shipping on Supplement Orders Over $125.
ALLERGY WARNINGS
Deproloft-HF is contraindicated in an individual with history of hypersensitivity to any of its ingredients. Iodine may occasionally cause an allergic reaction in some individuals.
PURITY
This product does not contain wheat, gluten, corn, yeast, soy, egg, dairy products, or artificial colors, artificial sweeteners, or artificial flavors. This product also does not contain lactose, palmitic acid, magnesium stearate, or stearic acid.
PREGNANCY WARNING
If pregnant, nursing, or trying to conceive, consult your health-care practitioner before using this product.
INTERACTIONS
5-methyltetrahydrofolate (5-MTHF) supplementation is not recommended concurrently with methotrexate cancer therapy, as it can interfere with methotrexate's anti-neoplastic activity; however, 5-MTHF has not been shown to interfere with the anti-inflammatory activity of methotrexate. An individual taking methotrexate for psoriasis or rheumatoid arthritis can safely take a supplement containing folate. Tyrosine is contraindicated in individuals taking an MAO inhibitor antidepressant medication.