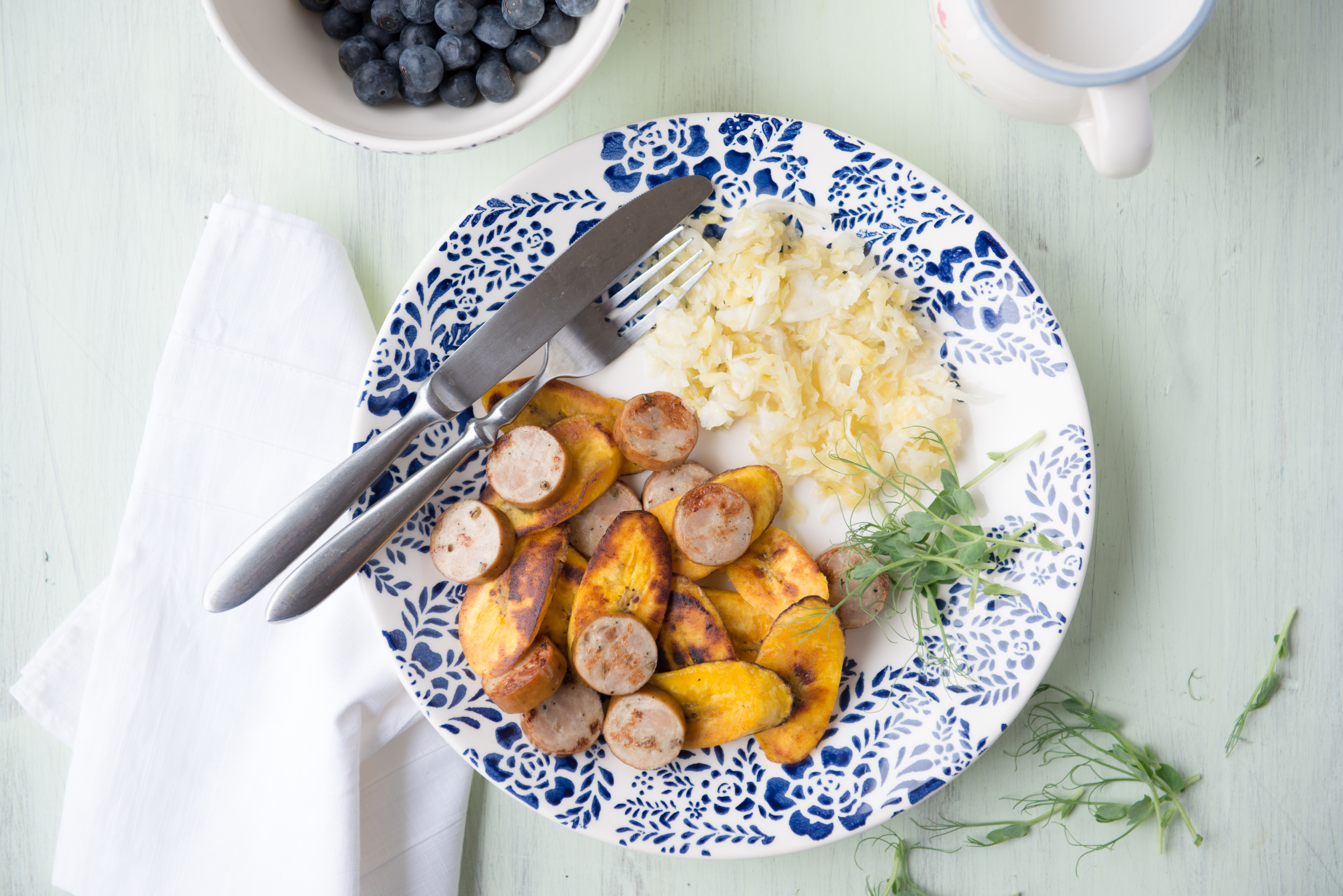 If you are looking for a very easy elimination diet breakfast meal that will keep you fueled throughout the day, then this recipe is for you. Plantains are an excellent source for complex carbohydrates that are easily digested. Use any type of nightshade-free organic sausage that is acceptable for phase 2. If you are vegetarian then try using cooked, drained black beans and ground cumin in place of the sausages. We like to make this quick and easy elimination diet meal for breakfast, lunch, or dinner! 

For more delicious Elimination Diet recipes and cooking videos, join our online Elimination Diet Support Program and let us walk you through the elimination diet process, step-by-step. Not quite sure what an elimination diet is? Wondering how it might benefit you? Then check out this video and article we created a few years ago. You can even sign up to receive a mini-Elimination Diet cooking video series there! 
Fried Plantains and Sausages
Phase 2: Elimination
Applegate makes elimination diet-friendly (fully cooked) organic Italian sausages that can be used throughout the diet. I like to use yellowish-green plantains for this recipe—great if you've bought green plantains for another recipe and did not get a chance to use them before they began to ripen. Serve with raw organic sauerkraut for a balanced meal. This recipe serves one hungry person, double it to serve two to three people. 
1 tablespoon virgin coconut oil or avocado oil
1 yellowish-green plantain, sliced
1 organic chicken sausage, sliced
raw sauerkraut
Heat a 10-inch cast iron skillet over medium heat. When it is hot, add the coconut oil. Then add the plantains and sauté on both sides for about 5 minutes total (I use a fork to flip each sliced individually). 
Push the plantains to the side and add the sausage slices. Cook for about 2 minutes or until heated through. Mix the sausages and plantains together and serve. Add a few spoonfuls of raw sauerkraut to your plate. 
Yield: 1 serving
Note: If you don't have any sauerkraut on hand then serve with another type of lacto-fermented vegetable, or even just a handful of broccoli sprouts or a jar of green smoothie!

Stay up to date with the current science and recipes that can help make your family healthy.